Best islands within 2 hours from Athens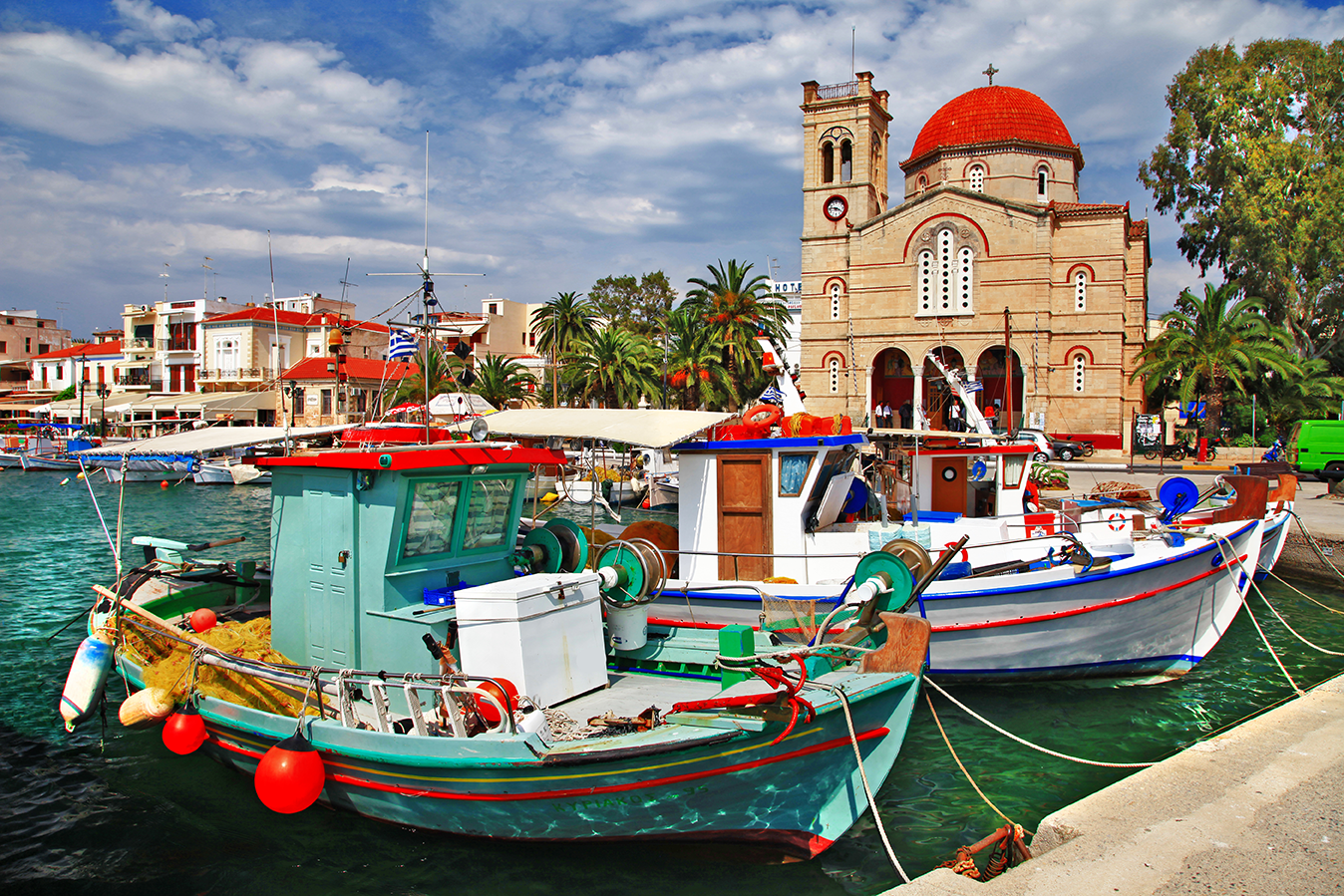 Greece, the land of Apollo and a history dating back as long as one can count, has over 4,000 islands to explore. Small, big, long, thin, tiny, they come in all sizes and shapes. Rocky or lush with vegetation the landscapes vary from one to the next, even neighboring islands differ greatly.
Just outside of Athens, within a two-hour journey, you can visit a variety of outstandingly beautiful yet diverse islands. There are three ports of Athens that you can depart from and ferry to these close-by islands and even take one's car. Piraeus is the main port directly outside of Athens on the sea. Rafina, located 30 kilometers from the Athens center and just 10 kilometers from the airport, is the second-largest port. Lavrio, positioned south of Athens by about 60 kilometers and about 25 kilometers from the airport, is a small port. All three connect the mainland to the islands both close and far.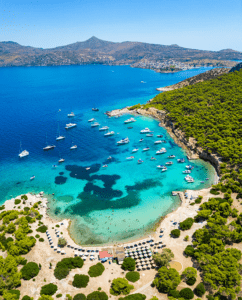 Heading out from Piraeus port, the first island you will encounter in the Saronic is Aegina. It takes about 40-minutes (16.5 nautical miles) on the hydrofoil and a bit longer by ferry boat to travel from Piraeus. It has a marvelous harbor where the town stretches all around the coast. Lined with cafes, restaurants, shops, produce and fish markets, and small hotels, it is quite picturesque. Once you have strolled a bit catch a taxi and head up the hill to the Temple of Aphaia, which dates to around 500 BC and overlooks the Saronic Gulf. Stop to visit the Monastery of Saint Nektarios and Paleohora, which is now abandoned. Back down the hill, there is an archeological museum where ruins and walls from the Neolithic period can be viewed. There are numerous nice beaches such as Marathonas, Kleidi, and Keri worth stopping for a swim. In Perdika, the fishing port town, you can enjoy fresh fish for lunch while sitting on by the quaint port or hop over to Moni island for a swim in turquoise water, on one of the kaiki (traditional wooden boats) that taxi there daily. There are hotels and pensions that can accommodate travelers for longer stays than just a day visit. Don't forget to stop on the bustling seafront promenade to grab some of the fresh pistachio nuts the islands are so famous for.
If continuing a day's outing from Aegina, verdant Poros would be a feasible stop, as the ferries head there next. If heading from Piraeus it takes about one hour on the ferry. As you approach the island the Poros Clock Tower (built-in 1927), its trademark comes into sight towering at the top of the hill in the center of the town. It is worth a climb to reach the top for breath-taking views. This little Aegean gem has a picturesque town full of tavernas, clubs, shops, hotels, and restaurants. Its waterfront walk extends from a quiet beachfront around and past the small inlet water passageway between the mainland and the island. Found on Korizis Square, located in the center of town, is a lovely small Archeological Museum that houses items from the sanctuary of Poseidon. After sun-down, the town comes alive with bustling cars, visitors from around the world, and music in the air. Further past the main town are a few larger hotels where if you choose to make it your home base for a few days you can sightsee easily Aegina, Hydra, Agistri, Port Heli, and Spetses. It is ideal for relaxing on the lovely beaches and small coves dotting its coastline and features a famous water ski school in one of its coves.
As you travel further out from Poros the next stop on the ferry route is Hydra. Hydra is only a 2-hour ferry ride from Athens, located in the heart of the Saronic Gulf. It is most famous for its maritime history and fine architecture of homes and buildings giving the harbor a captivating character. Part of the charming character of the island is that there are no cars and you either get around by foot or hire a donkey. It is very cosmopolitan by nature, as frequented by many celebrities, artists, and famous personalities over the years (specifically in the '60s and '70s). Most visitors come for the day by ferry or by private yacht due to not having many places to lodge. There are no large sandy beaches and most swimming is done in small coves off of the rocky coastline. This little fairytale of an island with its stone neo-classical mansions rising-up the hillside like an amphitheater, little winding paths, cobblestone narrow alleys, donkeys going up and down the stone walks and stairs make it feel like it jumped out of the pages of a book. What's more, is that the sun sets right in front of you in the town.
Spetses, the last island for day-tripping in the Saronic, takes under two and a half hours direct by ferry from Piraeus and two to three hours if driving and ferry taxi across from the mainland. It is one of the most famous and cosmopolitan holiday destinations in Greece. The windy streets with Venetian mansions climbing up the hills create an elegant and sophisticated aura of times past. It is a wonderful town to take endless strolls exploring the artsy shops, boutiques, and seaside dining. There are easily found and accessible swimming spots, gourmet restaurants, fabulous nightlife always offering a good party making for a vibrant atmosphere. Of course, a visit is not complete without an open carriage and horse ride along the seaside. Here cars are banned just as in Hydra. It is a densely forested island that played a major role in the 1821 Independence War; here is where the revolt against the Ottomans took place.
If one chooses to head north of Athens there are a few good islands to explore without long travel times. Departing from Rafina by ferry it is a short ride to reach the island of Evia. It is the second island in size next to Crete. From tip to tip it might take 5 hours by car. Being as large as it is, it has a varied landscape. The interior is quite mountainous with winding rivers and fresh natural springs popping up through the rocks. Many hotels have been built to utilize the natural springs and have thermal spas, a practice dating back to Ancient Greece in these parts and highly popular in the '60s. There are beautiful beaches on the Aegean, whether organized and large or private and discreet, large and small towns, and a lot of agriculture. The island offers a great diversity of things to do, places to see, and fun for all.
The next island out from Rafina is Andros, the most northern island in the chain of islands the Cyclades. Although close to Athens, (2 hours by ferry) this chain of islands still remains pleasant and calm and devoid of masses of tourists. Some say the locals, in part Ship Owners, like it and keep it that way. The scenery is mountainous with lush vegetation, sprawling beaches and fresh-water streams from rocks, and numerous marble drinking fountains. The architecture is varied and you will find the typical Cycladic homes, neoclassical buildings all snuggled up to Venetian tower homes and captain mansions The countryside is dotted with water mills, waterfalls, pigeon houses, and stone walls and bridges. Batsi is a cosmopolitan little town above a small fishing village and a sweeping large sandy beach with beautiful narrow streets and numerous restaurants offering fantastic views and food; a nice stop for dining out in the evening. The main town, Chora, is a windy drive up from the port and offers another ambiance entirely. The beaches offer many opportunities to sunbathe, scuba dive, SUP and windsurf, while the countryside has an incredible network of hiking trails. Not as well-known an island as many, but a gem tucked away just a short distance from Athens.
So if time is limited and you have a day or two only to get out of the bustling city of Athens for a little R + R, think about visiting one of these great islands within just 2 or so hours away. Even the ferry rides are relaxing as well. You can stay overnight or even make it back to Athens to sleep.