The Best in Global Rail Travel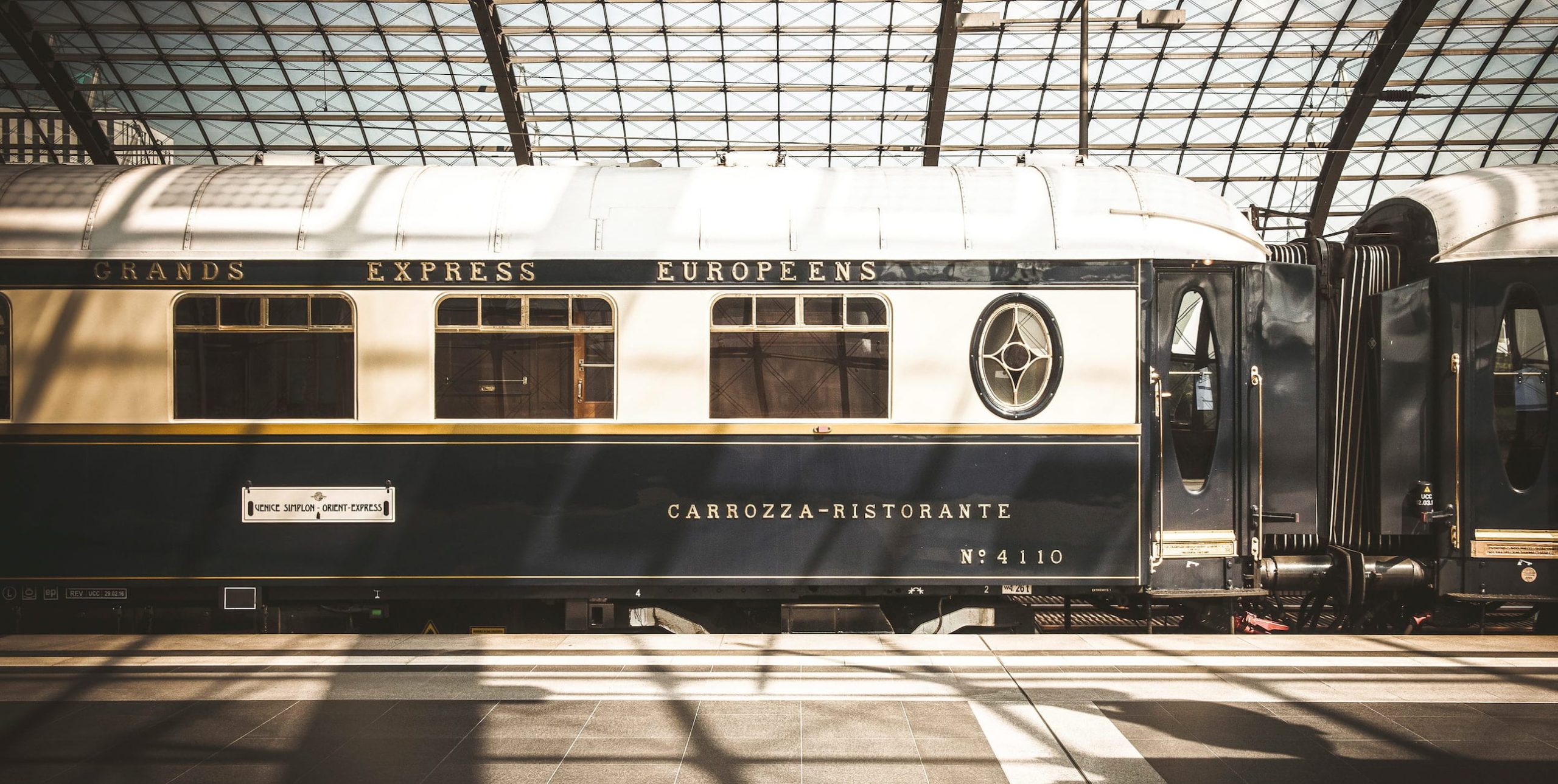 Traveling by train is again becoming very popular as it was in years past when trains like the Orient Express were known for its glamour and excitement.  Train travel is the perfect way to view nature, embrace new culture, wine and dine and be treated like royalty with minimal effort.  Step back into the glamour of yore and step aboard a slow-moving relaxing luxury train. For your next vacation, board a luxury palace on wheels.  Here are some of the greatest, most sophisticated luxury trains of today.
Surely the worlds best known luxury train the Venice Simplon-Orient Express still runs and spares no expense in making you as comfortable and pampered as can be, even down to offering free caviar upon your arrival. She was once described by Vanity Fair as "the train against which all other luxury trains are measured."  She travels throughout the European countryside in style and has iconic stops like London, Paris and Venice.  Her décor still echoes the 1920's with warm and rich fabrics, Art Deco finery and gleaming polished wood walls. Nothing is lacking in making it immersive of old school glamour; you are easily transported back to the golden age of travel.
 The Belmond British Pullman has remarkably restored pullman carriages of the 1920 and 30's.  This line tours cities such as Cambridge, Canterbury and York and of course makes a stop at the famed 5,000 acre Downton Abbey Highclere Castle. This line has served and catered to British royalty for many years.  One can expect full several course meals aboard and even afternoon tea in the typical British manner.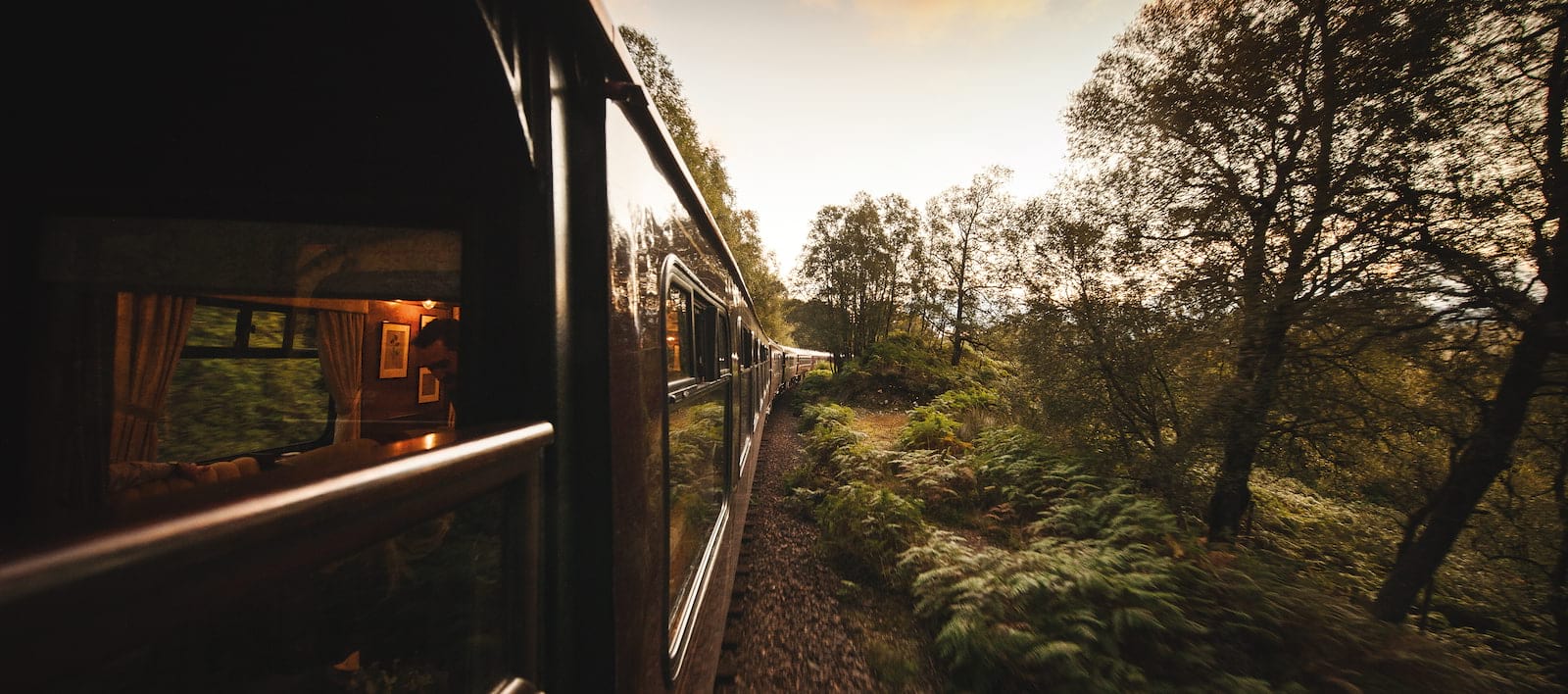 If looking for a bit of Edwardian inspired style aboard a luxury train then look no further than the Belmond Royal Scotsman.  She departs from Edinburgh and travels through the Scottish highlands and explores the Scottish Lochs and castles.  Her compartments are decorated with Scottish Tartan wool blankets and boast large picture-windows making the views ever-intriguing.  Aboard, one can even indulge in a full body massage, facial or manicure in the Haybarn spa car. Her stops to distilleries, monuments and castles are designed to highlight the Scottish culture and history
Palace on Wheels is India's best known train and is decorated in bright Indian fabrics.  Depending on the duration you are aboard one can travel from New Delhi through the Land of Kings, explore the Pink City of Jaipur, visit 16th century palaces, Rajasthan with camel studded sand dunes and even stop at the famed Taj Mahal. 
Another famous train is the Maharajas Express boasting to be one of the most luxurious of vacations on the rails. She takes one through many of the delights of India. At every stop the train makes there are fresh flower garlands and large welcome ceremonies.  It offers top service with a butler to every car. Her most popular tri is the tour called the Heritage of India which visit stops such as Mumbai, Jodhpur, Agra, Udaipur and Delhi.
The Rovos Rail, running through the diverse landscape bustling with wildlife of Africa, has it's travelers start their luxury travel from the very start with a band playing, and trays of champaign and hor d'oeuvres all greeting you in the private lounge. All travelers must adhere to a strict no-cell phone rule.  Compartments aboard can range from delightful cozy staterooms to massive compartment with full-sized bath tubs.  There are evenings where one dresses in formal attire as well as casual.  Meals are five-star and the South African wines a delight to explore. This train departs for a three-day journey from Cape Town, South Africa and rolls through the grasslands of Highveld and the desert of Great Karoo and even stops at a diamond mine to explore. This train has open-air balconies on the observation car for exceptional views.
The Presidential Train, in Portugal, is known to be an exceptional culinary destination. It hosts some of the world's most renowned Michelin–starred chefs.  They source some of the world's finest and freshest food, turning out amazing gastronomic delights.  The train follows a path through the Douri Valley, known for their wine and especially Port. Wines are hand-picked and perfectly paired to all the meals.  Meals are served in one's own private cabins making for a delightful individual experience. Having been in service since 1890 it has hosted kings, queens, popes and presidents.
One of the few ways to reach the lost city of Machu Picchu, Peru is by the grand line Belmond Hiram Bingham, named after the explorer who discovered the city in 1911.   It escorts guests in lavish style into the Andes. This line embodies the charm of the 1920's with polished wood interiors, sumptuous upholstered armchairs and beautiful antique fittings.  Divine, lavish full meals are served for all aboard. It is a round trip journey taking you from the city of Poroy to the valley of Machu Picchu to its magical lost city.
If you wish to climb and weave through the Peruvian Andes at heights of 14,000 feet, then board the Belmond Andeane Explorer.  She is decorated with classically stylish accents. You can choose one or two-day journeys traveling between Arequipa and the ancient capital of Cusco.  She only accommodates up to 48 guests but boasts two dining cars offering vibrant Peruvian cuisine, two bar cars and a spa car. They offer excursions to visit Incan ruins and Lake Titicaca. The cars are decorated with local flair and even with Peruvian tapestries made from Alpaca wool.
The beautiful wilderness of the Canadian Rockies is best seen on The Rocky Mountaineer.  It has amazing 360-degree glass enclosed cabins making viewing of wild elk, bighorn sheep and luminous mountains feel like they are right next to you.  There are three different routes one can explore on the Rocky Mountaineer.  There is a host aboard which highlights the local history as you travel. This train is more for spectacular viewing and offers stays at hotels on the way.
Connecting Budapest and Prague runs the old-world charm of a train called the Golden Eagle Danube Express.  It is a small more intimate style of train well appointed with king-sized beds, full large sofas and fabulous picture-windows from which to capture the views. Dining is a highlighted experience aboard with uniformed staff, delicious continental cuisine served on linen tablecloths and crystal glassware and china.  There are numerous stops where you can take a boat ride on Lake Balaton, wander the streets of Vienna and Krakow.
One of the oldest train lines and third largest in the world is the Trans-Siberian Express in Russia.  Being just now over 100 years old and still offering top of the line service, it connects east to west from Moscow over the Urals to Vladivostok. Some of the unusual offerings aboard are taking Russian language lessons in the bar car or relaxing to a live pianist at the baby grand piano. Some of her excursions will take you to Mongolia's capital and for those who dare, a dip in the frigid Lake Baikal.
Train travel takes you to stunning destinations allowing for breathtaking views, excellent service and style while cruising in the lap of luxury. Relish the journey as much as the destination. Enjoy the white glove service, dine on five-star meals and let the rhythm of the rails lure you to sleep.  Meet new friends and connect with people from all regions of the world while making new lasting memories.  
Happy rails….