Greece, the Year-Round Destination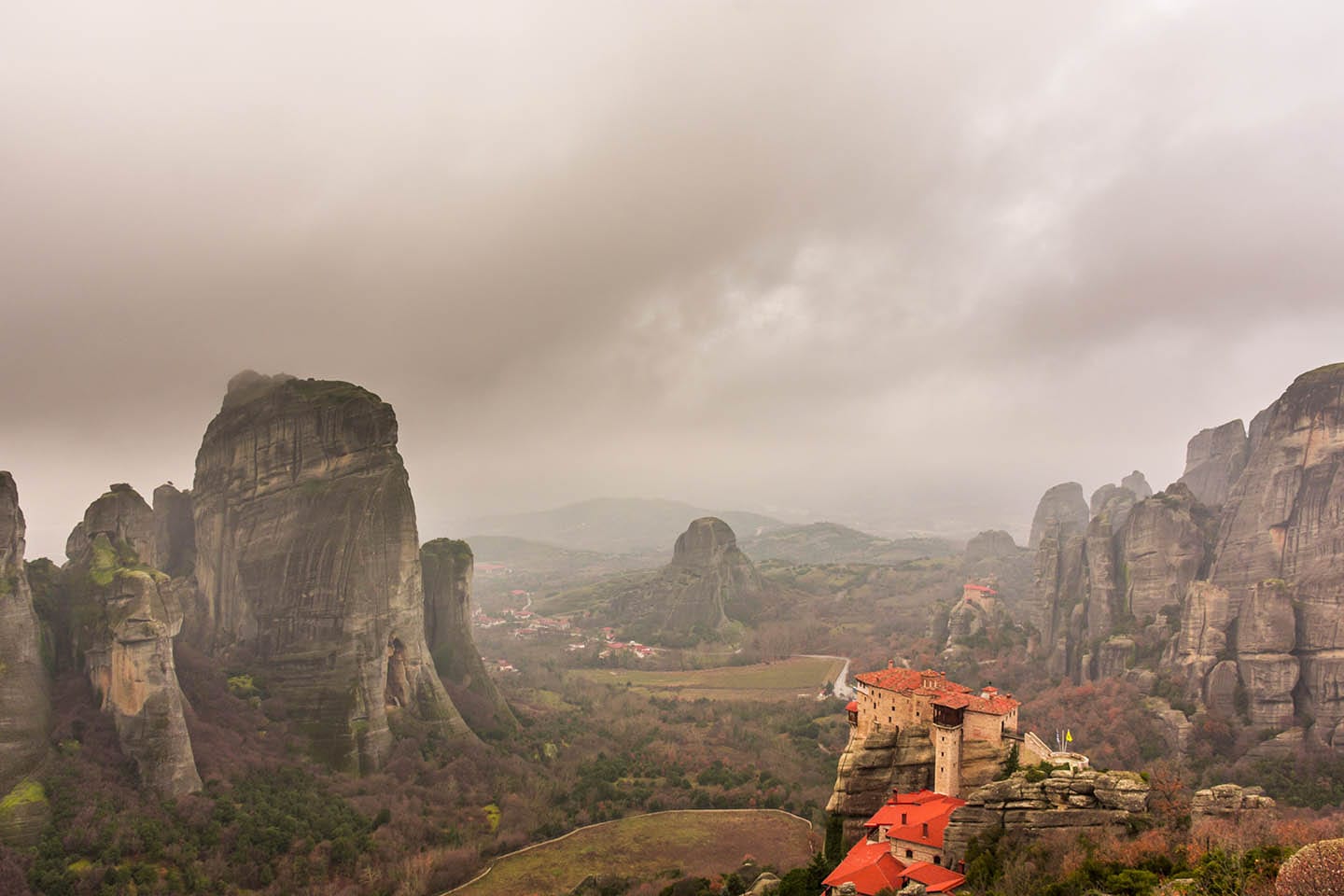 Greece, the land with the most famed ancient history, great culture, mythological tales, and fables, and the birthplace of democracy is home to more than 4,000 islands drenched in nearly 300 days of annual sunshine. Known for its beautiful islands and great summer weather, Greece has become the number 1 summer playground of the Mediterranean. In recent years, the savvy tourist has begun to explore other avenues of travel within Greece on the "offseason."
Travelers flock to the beaches, enjoy the bountiful shopping opportunities, revel in the ever-robust nightlife and explore the ancient sites and museums to delve into the history of an age-old civilization. Sunny days and warm waters entice all to partake in discovering all the sea-oriented sports such as snorkeling, kite surfing, windsurfing, water skiing and the best of all, yachting! Chartering a yacht with friends and family allows the savvy travel to explore the islands, from their busy main ports to the remote sandy beaches and coves reachable only by boat. Traveling with their own company and serviced by their own private crew, leads to personally tailored vacations allowing them to handpick the destinations and style of travel. Greece, one of the top yachting destinations of the world, offers endless opportunities to explore Greece's magical islands.
With so many islands to choose from it is hard to fit them all in a short visit and it often requires numerous visits to just sample some of their beauty. The different island groups tend to be recognized for different attributes. Two of the most popular island groups for first-time visitors are the Cyclades and the Ionian, both dramatically different and exquisitely beautiful. The Cyclades are best known for its beaches, nightlife and wonderful honeymoon destinations. The white-cubic architectural style and blue shudders are well known and photographed. The Ionian, most notably Corfu, is famous for its churches, Monasteries, Palaces, Museums, Venetian architecture, shopping and finer sand beaches. Here again, Yachting offers a wonderful mode of transportation among these stunning islands.
ATHENS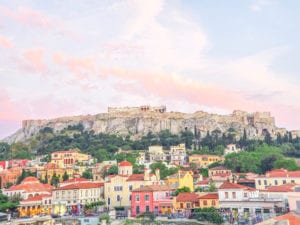 Athens, the capital of Greece, is a bustling city full of history, ancient sights such as the Acropolis which should not be missed and fabulous venues for tasting gastronomic delights. As in any cosmopolitan city, its culture shines through in her culinary offerings, fashion and jewelry based on ancient designs and varied natural materials, and is felt with every locals' greeting of "Yassou" ('Hello' or 'to your health'). Museums abound highlighting Greece's ancient past and introducing the new wave of modern design and art as seen in Athens' new modern art museum across from the old Fix brewery. Wonderful Greek summer festivals, international dance performances, and music and theater productions all fill the ancient theaters. The scent of jasmine and musical notes are always a part of the atmosphere of this bustling metropolis where treasures are found around each and every corner.
SPRING & EASTER
Spring in Greece has so much to offer. The variations of vegetation and spring flora is amazing. All parts of Greece seem to open in full bloom with May 1st as the official kick-off where floral garlands are made by every citizen with the right mood. Bird watching is a favorite pastime of some during the Spring months in the islands especially. River rafting is also a favorite adventure sport in the mystical and fabled Styx river. Easter is probably the largest celebrated holiday in Greece which falls in the Spring. It all starts forty days prior to the start of Easter. During Carnival's (Apokreas) last two weeks everyone celebrates from large cities to small remote towns. People fill the streets in elaborate costumes, meet family and friends to eat, drink and party. It is a time of merriment and celebration with pagan roots and modern interpretations. The Easter celebration itself is full of religious meaning and the customs date back centuries. Religiously the Greeks follow the rites in commemoration of Christ and then the resurrection of Christ on Easter Sunday. Good Friday is the most important day of The Holy week. In the evening, an Epitagy is carried from the churches through the towns. On Holy Saturday a few minutes before midnight the people ring out, "Christos Anesti," (Christ has arisen) and pass the light from candle to candle of the holy flame which is then to be carried home to bless it. Family and friends gather for the traditional soup, 'mageiritsa', Saturday at midnight. Easter Sunday the lent is broken and feasts of grilled meats, (usually goat or lamb) a myriad of home-cooked dishes, salads of all kinds, freshly baked bread and wine and beer all adorn table after table, as friends and family feast the entire day.
AUTUMN
The main tourist season stems from April through October but now the knowledgeable tourist and sports-minded individuals are discovering the off-season's beauty in Greece. Mild temperatures, November through March, allow for a cooler atmosphere to partake in outdoor activities and enjoy the mountains in wintery glory. More diverse activities are being organized through adventure travel trips such as trekking, walking programs and guided rafting trips in the mountains. At the base of Meteora (meaning "hovering in the air") lies the rocky tourist town of Kalabaka. Here, a lot of climbing and hiking tours originate. Throughout these mountains one can also raft, go horseback riding and even go skiing. Traditional villages, such as Pyli, Aghia Paraskevi, Neraidochori, engulf the natural beauty of the region's fir and pine trees. Picturesque streams flowing through the land are dotted with old stone bridges and paths that lead to tall cascading waterfalls. This region hosts seven major monasteries built on rock foundations of unusual form and not easy to explain geologically.
WINTER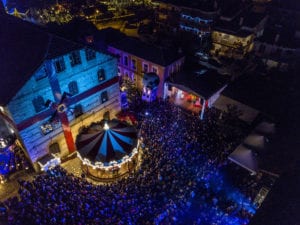 December has temperatures ranging from 50-62 degrees F., which is mild in general for that time of year. The town of Trika is a great tourist destination at the Christmas holidays. Constructed in stone in 1884 the Mill of Mastsopoulos transforms into the "Mill of Elves". This famous Christmas themed Park draws visitors from around the world offering holiday surprises for all. Another Christmas themed park is Oneiroupoli in the region of Macedonia. Here one experiences beautiful Christmas Lighting throughout the park; small wooden constructed homes that offer handmade crafts from Greece and local delicacies. Children's activities abound even with rides on small trains. It is a great family destination, offering things for the entire family to enjoy. On December 23rd in the town of Florina the entire town lights bonfires all over, the largest in the main square, in remembrance of the shepherds lighting fires for the baby Jesus. Brass bands accompany the night-long holiday celebration. December 26th in Volos thousands of lanterns are released in the sky where you can offer up a Christmas wish. A lovely sight to be seen for sure. Of course, Athens and Thessaloniki are teaming with holiday concerts, lights and festive activities throughout the cities. Christmas villages, outdoor ice-skating rinks in the squares, parks and marinas and wonderful options for holiday shopping make the metropolis great fun. Christmas in Greece comes with her special traditions of excellent and tasty typical Christmas food, such as Melomakarona (Christmas cookie with cinnamon, cloves, orange and a dip in syrup and nuts), Kourabiiedes (made with toasted nuts, butter and sugar icing) and Christopsomo, baked on Christmas eve and served on Christmas day, is divine. Small alleys in the cities and towns have designated areas serving rakomelo, raki with honey served piping hot.
Greece in the winter, in the mountains, is a great ski holiday destination with numerous resorts surrounded by small towns. Ski holidays in Greece have become very popular in recent years, such that booking hotels near the resorts often require early booking to secure rooms. Many resorts in the mountain regions offer spa holiday retreats. The curative benefits of the mineral and hot springs were discovered thousands of years ago. Spa and thalassotherapy centers have become most popular offering state-of-the-art facilities. These are an ideal setting to enjoy a rejuvenating massage with Thalassotherapy treatments.
THEMED TRIPS
Themed adventure vacations happen all year. The Architecture of Greece varies from region to region and offers the architecture buff an array of styles from Neoclassical (such as found in Nafplion), whitewashed buildings of the Cyclades, and Ottoman influenced buildings, to pastel-colored baroque edifices of Corfu to Medieval churches and castles. Religious pilgrimages to historic sites tracing the footsteps of Saint Paul are as plentiful as tracing the fabled route of Homer. Sip wine made with sun-kissed grapes grown locally throughout Greece. Wine tours have grown in popularity as the Greek wines have become much more sophisticated. Archaeological groups explore known sites throughout Greece, as well as new digs just being uncovered. Culinary schools have become popular offering farm to table options as well as traditional Greek cooking.
No matter what the traveler is interested in, whether sun, beaches, yachting, historic archeological sites, religious monuments, museums, extreme sports or hiking, great food, relaxation, yoga and spa retreats, and shopping, Greece has a season and time for all.