Parga: For VIP Sailors, Adventurers and Romantics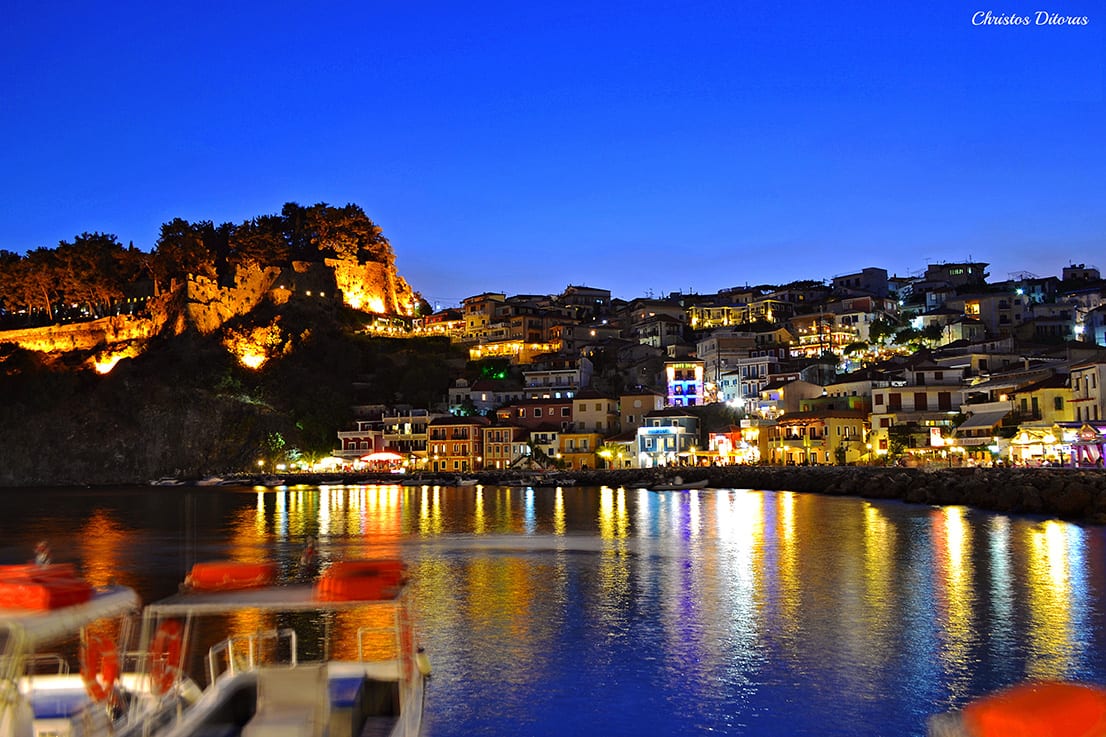 It may be part of the mainland, in the multifaceted Epirus region, but Parga is oddly, also very much like a tropical-Ionian island. The scenic resort town lies 25 miles northwest of Preveza and 25 miles southeast of Igoumenitsa and is only 15 minutes' sail across to the islands of Paxous. Even if you choose to stay put during your yachting trip, there is a great deal to enjoy in this charismatic and historical town. From charming beaches with transparent swimming-pool blue and emerald waters to fine dining and darkly mystical sites, this is a popular destination that's especially idyllic off-season.
Tip: If you can, aim to visit when it is less busy, particularly in June and September.
First Things First: Anchors Ahoy
The only place to anchor your private boat in Parga is the NW corner of Ormos Valtou, where depths are 4.0 – 5.0m and the holding (with seaweed and sand) is steady. This area is also sheltered from NW winds, but beware that after dark there is a swell. 
During the off-season period, it's also possible to anchor in the cove east of the harbor – which during high season is busy with tour boats. As the cove to the east is a beach, yachts are not generally welcome during busy swimming periods.
The Venetian Vibe
Like Corfu to its north, Parga's architectural aesthetic is deeply imbued in what was built there during the Venetian occupation (from the early 1400s to the late 1700s). Amphitheatrically built to face the sea, it's lined with ceramic tile-roofed houses in shades of terracotta, burgundy, pale yellows, baby blues and white that are built closely together. Through and around them are meandering cobblestone paths, some leading to the sea. The must-see 'crown jewel' of the town is the 14th century  Venetian Castle, which is definitely worth hiking to (especially for sunset) to take in its panoramic views of the Ionian Sea and Valtos beach to the south. The castle, demolished twice by Ottoman invaders and once by pirates and reconstructed in 1572 by the Venetians, is a symbol of resilience.
The Parga Lifestyle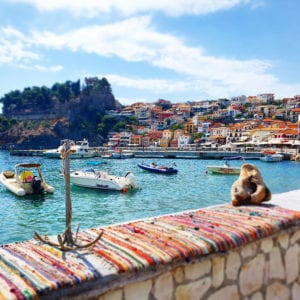 A lovely way to start your evening post-beach and pre-aperitif is enjoying a 'glow-time' sunset stroll along the glittering seafront promenade. Observe the blazing colors of the sky mirrored on the sea and the people, ouzeries, and restaurants. Connect with the Parga buzz.
Even during our COVID-phobic Era Parga's popular main town gathered quite the crowd, but during this season things have quietened down. When in town, head to Villa Rossa restaurant for fine Greek-Mediterranean dining over the sea in a mise en scene reminiscent of Thailand, or try La Barca for great seafood. Filomila at the base of the Venetian castle is ideal for sophisticated but unpretentious Italian cuisine and Kastro 1380 for Greek-inspired food with a side of stunning views nearby. Otherwise, try Wine and Food by Sugar at the port. 
Meanwhile, there are also the villages of Anthousa, Aghia Kyriaki, Margariti and Lichnos to visit, each with their own charms. Go to Margariti in the daytime to visit the regional Folk Museum or Anthousa for its lovely waterfalls, and later dine at To Dyxti, Vasilis or Oasis tavernas. In Aghia, visit the only remaining – of originally 10 – Instagrammable windmills built in the 1960s.
Beaching Out in Parga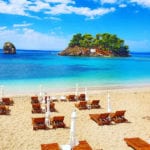 If you like long, wide, busy beaches, the best beaches to head to are Kryoneri, Piso Kryoneri and the coastline of Valtos on the other side. At Kryoneri you can rent a pedalo or swim to the islet across, called Panagia (Virgin Mary) because of the pretty church built there. Swim at Ai Yiannaki and Lichno in the southern area, and if you're heading towards Syvota, dive into the waters of Sarakiniko, Karavostasi, and Arilla. Fantastic beaches to visit by boat are Papamali (near Sarakiniko beach), Lefkos Gremos, Spartila, and Ai Giannakis.
Hello Darkness My Old Friend
Sometimes bright sunshine, blue skies, and crystalline waters are too bright and it may actually do you good to momentarily plunge into ancient mystical darkness for a change of scene. So why not take a drive from Parga to the nearby site of the Oracle of the Dead? This admittedly scary-sounding yet fascinating archaeological site on the banks of Acheron river is where in antiquity people went to communicate with the dead. They visit their involved days of sensory deprivation rituals, blood sacrifice, and taking hallucinogenic substances. They were taken to the oracle after walking through dark labyrinthine tunnels that led to the iron Gates of Hades. Some experts today say this was all a smoke-and-mirrors façade generated through the use of chains and pulleys that were found behind the walls – perhaps to recreate the illusion of the dead responding to the seeker's questions. Who knows?
Revival: Adventuring at Acheron River
If you'd rather skip the visit to Hades' chilling gates altogether, or cleanse and brighten your energy post-visit – or simply, enjoy a refreshing adventure – explore the Acheron river for its freshwater and lovely springs. The Acheron Springs in Glyki are lovely for a reviving swim, especially as the water is quite cool. If you're feeling sporty, head to Dala's Bridge, a naturally beautiful area of the river (warning: that can take up to an hour to reach). Various adventure tourism agencies also organize kayaking excursions along the Acheron.
Last Destination: Paxous
Not Parga, but only one hour away! It would be a real shame to miss out on the beauty and understated glamour of Paxous when traveling on your boat. There are just three villages – Gaios with its Venetian architecture, Loggos, the smallest of the three, and Lakka with a scenic horseshoe-shaped harbor that attracts yachts and sailboats. Kypiadi, Marmari and Pounda bays on the eastern coast are ideal for sailors as they are more remote. While onboard really take in the lush beauty of this area, covered in olive groves and pines. Only 15 minutes away and to the south is Antipaxos with two lovely beaches blanketed in white sand, Vryka and Voutoumi. 
Whether you are planning a trip to the Ioanian in spring, summer or even early fall, Parga is an idyllic destination because of its magical mix of verdant landscapes, crystalline sea, romantic architecture and sweet, buzzy ambiance. Add to that its cultural and historical wealth and stunning nearby hotspots and you certainly have a winning combination.